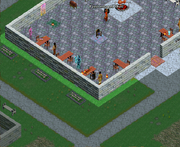 Fackler's Papers is a collection quest in Geneforge 4 which requires the player to collect the item Research Notes and bring them to a man named Fackler.
Overview
The quest can be started in the Shaper city of Dillame in Illya Province. A man named Fackler is in the center of the map in a merchant inn. He is located to the southeast corner of the building with food and drinks all around him. He asks the player to retrieve some Research Notes, which contains information about the works of Shapers.
As Fackler is in a dangerous Black-Market business, the quest can irritate the Shapers and bring up a good Rebel reputation. Each research note brought in rewards a handful of experience and 80 coins.
Rewards
In addition to the experience and 80 coins for each Research Papers, Fackler rewards the Gauntlets of Succor when eleven Research Notes are brought in. This is a one-time deal, meaning that the next set of eleven Research Notes rewards nothing.
Do it?
As a Rebel, this quest is excellent in boosting a player's Rebel reputation. Shaper players may have a harder time deciding. While the experience is great, the cost of losing good reputation in the eyes of the Loyalists can impede the gaining of quests and other rewards. If the player wishes to be slightly pro-Shaper, this quest is excellent. Trakovite players will find this quest excellent in balancing out Shaper and Rebel opinion.